May 07, 2023
12:00 PM - 1:30 PM
Plaza Building
Is there anything more enjoyable than looking at art and talking about books?  We at the Museum Library don't think so and that's why we started an art-themed book club!   Join us in the galleries on May 7 to discuss this month's title, The Lost Carving: A Journey to the Heart of Making by David Esterly in conversation with the exhibition With the Grain.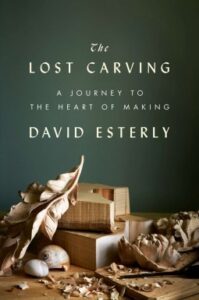 Upon seeing the wood carving of Grinling Gibbons in a London church Esterly set out to master Gibbons's nearly forgotten technique, dedicating his life to the demands of ornamental woodcarving.  In this meditative account Esterly describes the ultimate challenge of replacing a Gibbons masterpiece destroyed by fire. "Written with a philosopher's intellect and a poet's grace, The Lost Carving explores the connection between creativity and physical work and illuminates the passionate pursuit of a vocation that unites head and hand and heart."
This is a FREE program.
Contact Librarian Abby Smith, abby.smith@dca.nm.gov to RSVP!