Past Exhibition
Con Cariño: Artists Inspired by Lowriders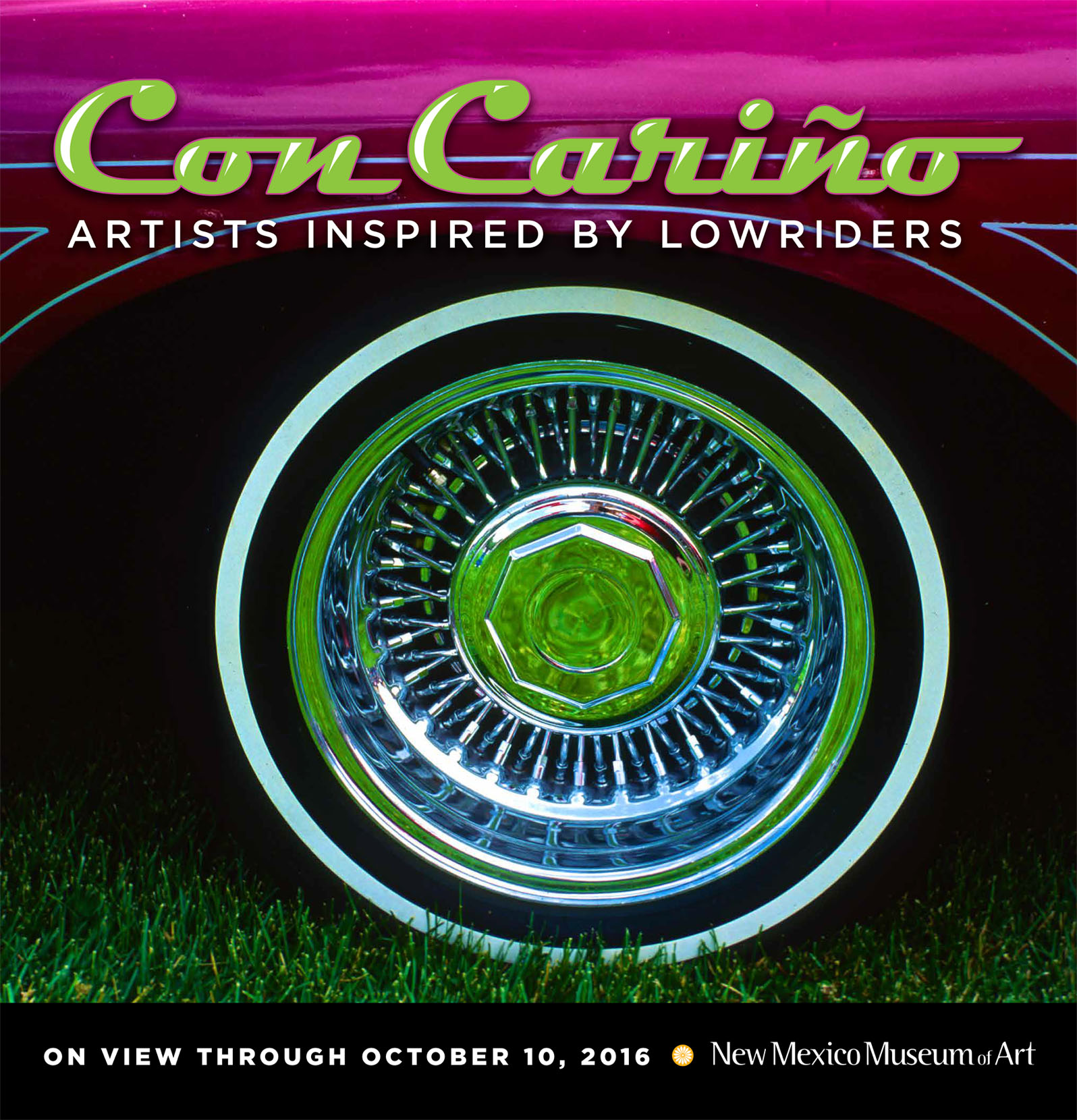 The New Mexico Museum of Art celebrates the artistic influence of lowriders on contemporary New Mexico artists in the exhibition Con Cariño: Artists Inspired by Lowriders. Responding to this unique cultural icon in photographs, paintings, sculptures, and videos, artists celebrate the lowriders as a subject of continuing vitality and relevance.
The exhibition includes more than fifty works of art dating from the 1970s to the present. Artists explore issues of family, gender, religion, and community, some coming to lowriders as outsiders to the culture and others using lowriders to investigate their own heritage and traditions. More than a dozen artists are represented, including Lawrence Baca and Ron Rodriguez, Justin Favela, Miguel Gandert, Alex Harris, Nicholas Herrera, Arthur Lopez, Norman Mauskopf, El Moisés, Jack Parsons, Meridel Rubenstein, Rose B. Simpson, Luis Tapia, Don Usner, and others.
This exhibition coincided with the New Mexico History Museum's exhibition
Lowriders, Hoppers, and Hot Rods: Car Culture in New Mexico
(May 1 – March 5, 2017). Both exhibitions are celebrated in the companion publication
Órale! Lowrider: Custom Made in New Mexico
from the Museum of New Mexico Press.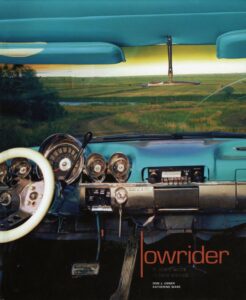 A full summer of activities swirled around the companion lowrider exhibits at the New Mexico Museum of Art and New Mexico History Museum. Mayor Javier Gonzales kicked things off on Sunday, May 22, the first official Lowrider Day, when he took the stage in Santa Fe's historic Plaza to proclaim this "Lowrider Summer." Attendees could meet the people who create these works of art in a day that included a parade of more than 100 cars from Fort Marcy to the Plaza, car displays on the streets surrounding the Plaza, "hopper" demonstrations, and a series of awards for lowriding participants. DJ Jason Crawford provided the music, visitors made art with local artists, and there was free admission to both of the museum exhibits for NM residents.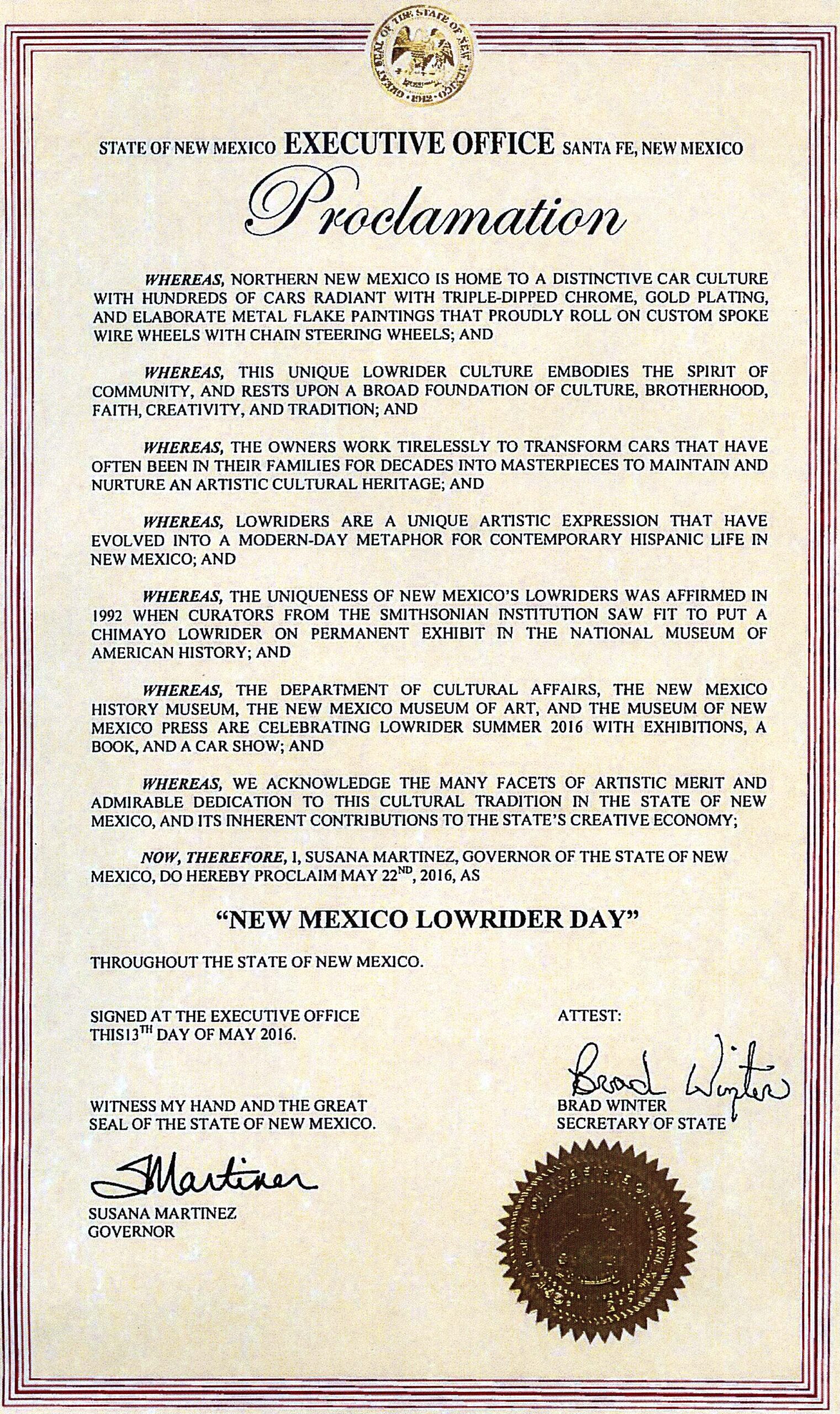 Scheduled Events for Con Cariño
Fri., May 20, 5:30-7:30 pm, Public Reception, Con Cariño. Join us for an evening of art, music, and hors d'oeuvres as the museum celebrates the opening of two exhibitions, Con Cariño: Artists Inspired by Lowriders and Finding a Contemporary Voice: The Legacy of Lloyd Kiva New and IAIA. Check out Rose B. Simpson's lowrider Maria (named for innovative clay artist Maria Martinez) in front of the museum, listen to music by DJ Prairiedog, and make your own paper lowrider.
Sun., May 22, 10 am–5 pm, Lowrider Day on the Plaza. Meet the people who bring lowriders to life. The day includes a lowrider procession from Ft. Marcy to the Plaza, lowriders all around the Plaza, a proclamation by the Mayor, hopping demonstrations, music, and awards. Free admission to both exhibits for NM residents, with coloring pages, button-making, and art projects in the museum.
Fri., June 3, 5:30-6:30 pm, Artist Gallery Talk: Arthur Lopez. Known for his contemporary approach to the traditional art of the santero, Arthur Lopez has incorporated lowriders into his work, conveying the strong interrelationship between lowriders, faith, and the landscape of New Mexico. Lopez and his family also collect work by other artists interested in the lowrider as a cultural icon, several of which are on view in the exhibition. Free
Fri., July 1, 5:30-6:30 pm, Artist Gallery Talk: Luis Tapia. Sculptor and santero Luis Tapia grew up in Santa Fe and began exploring the Hispano folk art of northern New Mexico in the early 1970s. He views his own carvings as an extension of that tradition with the addition of a contemporary sensibility, often touching on the religious, political, and social issues of today. Free
Sun., July 10, 1-4 pm, Family Day: Enjoy free family activities in a festive, creative atmosphere with hands-on art-making and lively 30-minute family tours.  Explore the exhibitions Con Cariño: Artists Inspired by Lowriders and Finding a Contemporary Voice: The Legacy of Lloyd Kiva New and IAIA. Stage your own self-portrait in a dress-up photo booth in the exhibition Self-Regard: Artist Self-Portraits from the Collection.
Fri., Sat., Sun., July 8-10, Visiting Artist and Community Artmaking: Artist Justin Favela brings his distinctive style to the museum for a three-day residency, working with the local community to create a giant paper lowrider that will be added to the exhibition Con Cariño: Artists Inspired by Lowriders when it is completed. Bring your family and friends and be part of making something spectacular to hang in the museum. No experience necessary, all ages welcome.
Fri., Aug. 5, 5:30-6:30 pm, Artist Gallery Talk: Meridel Rubenstein. Challenged by a suggestion that lowriders were the true craftsmen of New Mexico, in 1979 photographer Meridel Rubenstein ventured to Española to meet and photograph them. Rubenstein recognized lowriders as fellow artists and says they changed her own approach to making art. Her portraits of lowriders were featured in the Museum of Art's 1980 exhibition The Lowriders, held outdoors on the Plaza alongside a car show. Free.
Fri., Sept. 2, 5:30-6:30 pm, Artist Gallery Talk: Rose B. Simpson. Artist Rose B. Simpson's interest in lowriders comes from growing up in Santa Fe and at Santa Clara Pueblo near Española, the lowrider capital of New Mexico and arguably the world. Simpson created her own black-on-black lowrider, Maria (named for artist Maria Martinez) and uses the cars in some of her work to shift boundaries of culture and gender. Free.
Fri., Oct. 7, 5:30-6:30 pm, Artist Gallery Talk: Miguel Gandert. Born in Española, Miguel Gandert is known for his ongoing exploration of Indio-Hispano culture in New Mexico. Two of Gandert's collaborative video pieces are showcased in the exhibition, offering a nostalgic lens on the lowrider experience using a contemporary medium. Two of Gandert's photographs are also included in the show. Free.
Activities: