Past Exhibition
Southwest Rising: Contemporary Art and the Legacy of Elaine Horwitch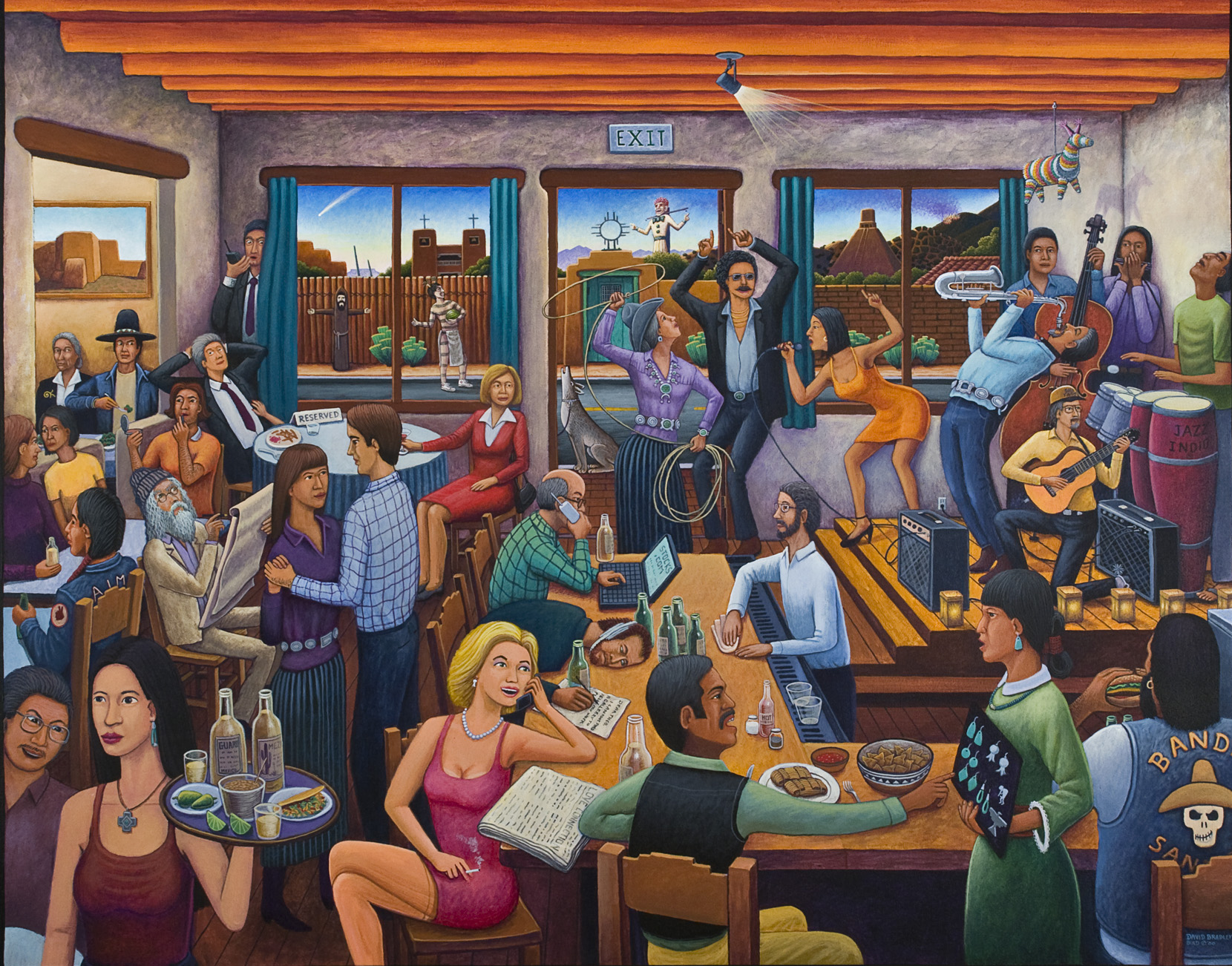 David Bradley, El Farol: Canyon Road Cantina, 2000, acrylic on canvas, 48 x 60 in. Collection of the New Mexico Museum of Art. Gift of James and Margie Krebs, 2005 (2004.2.7). © David Bradley. Photo by Blair Clark.
Art dealer Elaine Horwitch was a major force in contemporary art in the Southwest from the early 1970s until her death in 1991, responsible for launching the careers of hundreds of artists from the region. With galleries in Scottsdale, Santa Fe, Sedona, and Palm Springs, she was a leader in fostering what has been called "new Western art" or "Southwest pop."
This exhibition highlights the works of some of the Elaine Horwitch Galleries' most popular artists. Drawn from the New Mexico Museum of Art, these paintings, sculptures, and works on paper reveal the breadth of art and innovation that occurred in the Southwest at a pivotal time of change. Featured artists include: Tom Palmore, Billy Schenck, John Fincher, James Havard, Fritz Scholder, Georgia O'Keeffe, Louise Nevelson, Robert Rauschenberg, Larry Rivers, and Bob Wade.
Southwest Rising is accompanied by a book of the same name written by Dr. Julie Sasse and co-published by Cattle Track Arts & Preservation and the Tucson Museum of Art.
This exhibition is organized by the Tucson Museum of Art and curated by Dr. Julie Sasse, Chief Curator.
"Julie Sasse: Southwest Rising: Contemporary Art and the Legacy of Elaine Horwitch "
Educational Activity:
Installation Images: