On View Sept. 2023 – Nov. 2023
The Window Box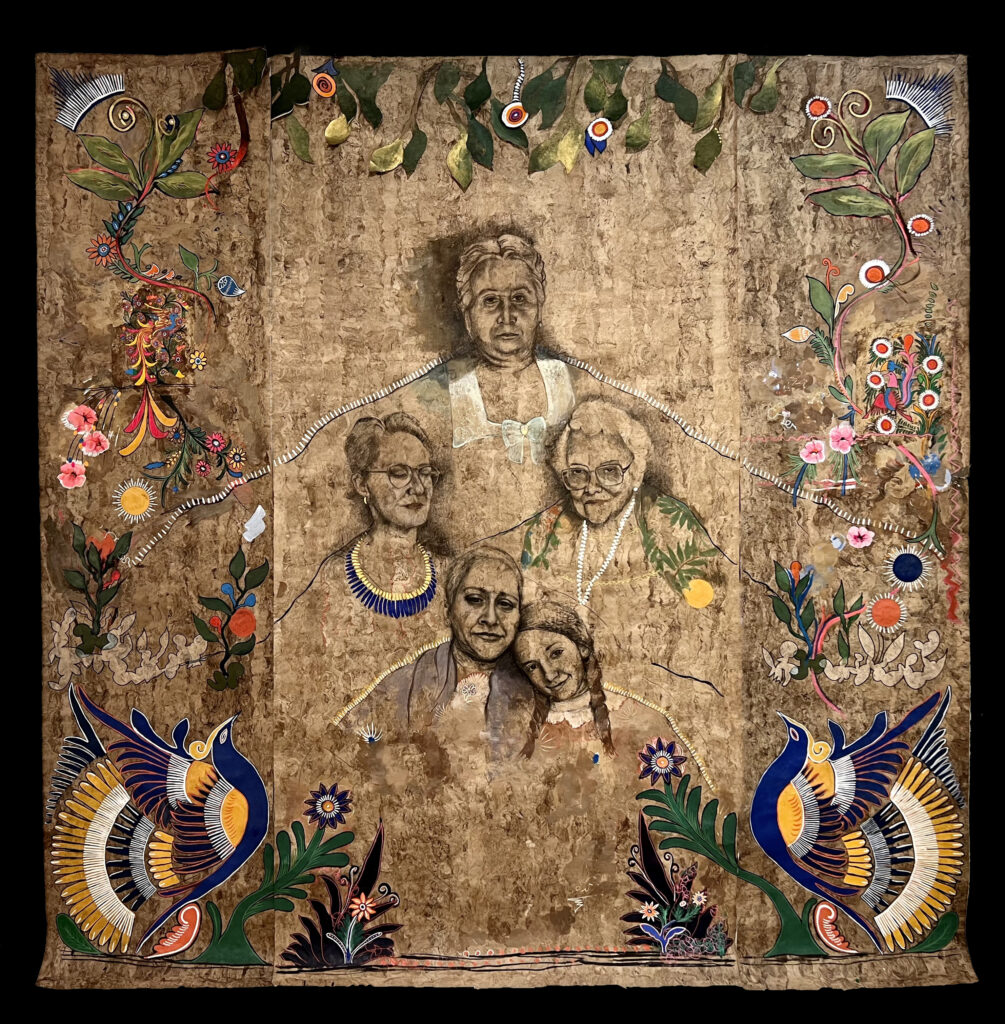 Cristina González
Chicana, b. 1971
Apapachando la Matria
2023
Pencil, cut paper, amate, tracing paper, mylar, ink, acrylic.
Courtesy of the Artist
Cristina González' work excavates personal, cultural, and ancestral memory to heal the present. Rooted in the practice of drawing and painting, González' work is figurative and personal, taking the form of cut paper, collage, painting, drawing, installation, and steel. Her Window Box installation, titled Apapachando la Matria, depicts five generations of women in González' matrilineal family line. Derived from the Nahuatl word papatzoa, apapachar is to hold with tenderness or "to caress with the soul." La matria refers to a motherland of the rematriated self.
In Apapachando la Matria, González holds with tenderness her own ancestral line, and offers a space of healing for displaced Chicanas who seek reconnection to their own motherland—both interior and otherwise. The work contains layers of images: cut, painted, drawn, and reflected, with shadows activating the space throughout. The walls and ground are clothed in amate, the Pre-Hispanic bark paper upon which the ancient codices of the Americas were written.
You can see more of Cristina González's work on her website: https://www.cristinagonzalez.com/
Top image credit: Cristina González, Apapachando la Matria (in progress), 2023, cut paper, amate, mylar, ink, tracing paper, acrylic paint. Courtesy Kaela Waldstein, Mountain Mover Media.
---
Sept. 29 @ 5PM: Cristina González Window Box Talk & Blessing
Join us at the Vladem Contemporary with Window Box artist, Cristina González, for a traditional blessing followed by remarks about her installation. The celebration will include paletas on the Plazuela to witness the Harvest Super Moon.
Event details here: https://www.nmartmuseum.org/events/final-friday-cristina-gonzalez-window-box-talk-and-blessing/
---

The inaugural year of the Window Box Project is a collaboration with the Santa Fe-based collective Vital Spaces, an incubator for the city's undiscovered emerging artists. For more information on Vital Spaces and the artist they represent, see their website: https://www.vitalspaces.org