Past Exhibition
Breath Taking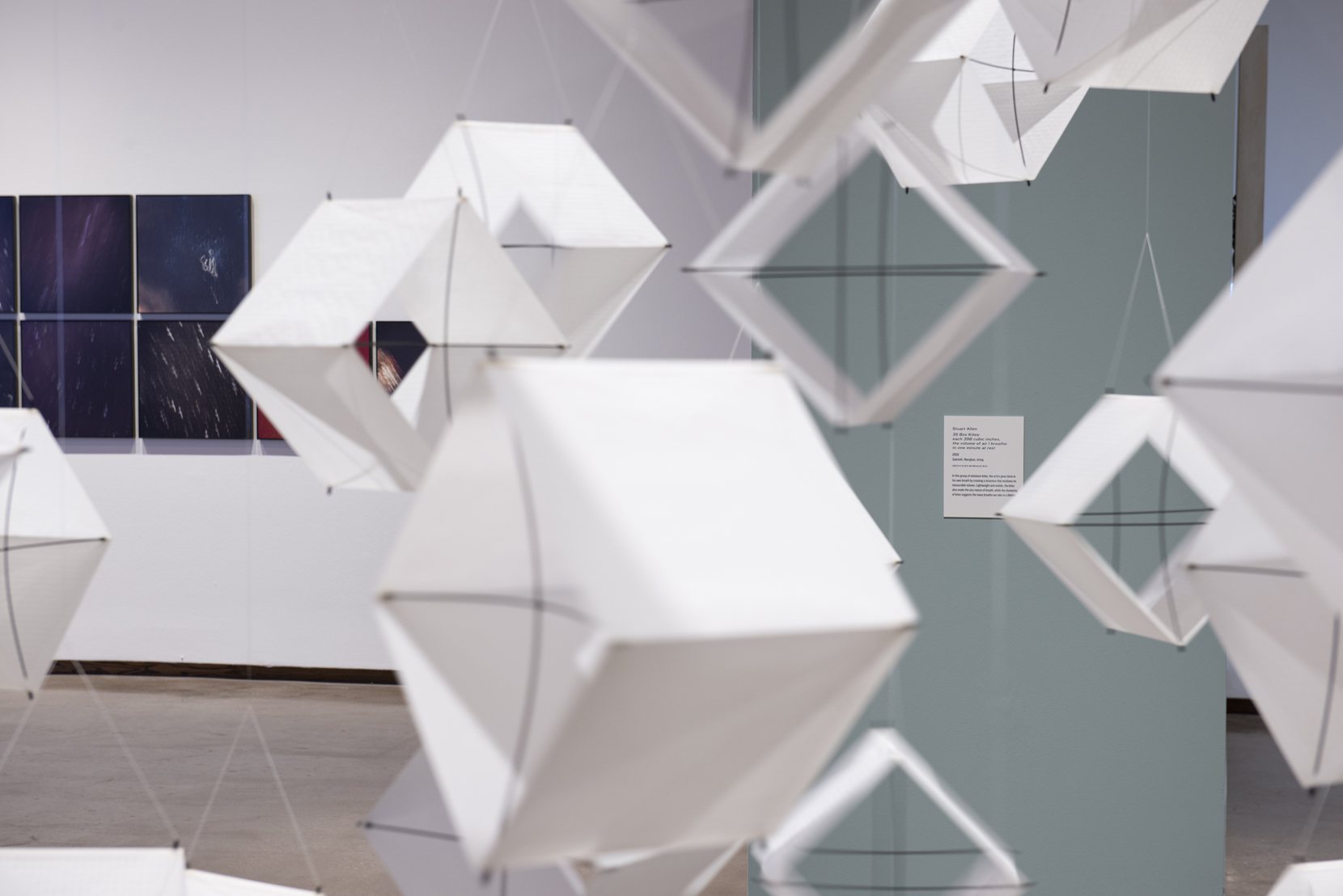 Breath. It is one of the first things we do in life and one of the last, but in between we generally don't give it much thought. In this exhibition, contemporary artists find inventive ways to express this fundamental and elusive act by measuring it, scanning it, enclosing it, evoking it, and reminding us of our own vulnerability.
Several artists approach the subject from a personal, meditative perspective while others consider the scientific and social justice ramifications, directly addressing threats to breath that have been at the forefront of public consciousness over the past year, including the SARS-CoV-2 pandemic and the use of choke-holds as a method of restraint for people of color.
Included are more than forty-five drawings, installations, photographs, sculpture, and video by artists Stuart Allen, Linda Alterwitz, Dan Estabrook, Brian Finke, David S. Goodsell, Cynthia Greig, Alison Keogh, Sant Khalsa, Marietta Patricia Leis, Shaun Leonardo, Tony Mobley, Jill O'Bryan, Peter Olson, Kim Richardson, Frank Rodick, Meridel Rubenstein, Don J. Usner, and Will Wilson.
Gallery Conversations: Curator Katherine Ware in conversation with artist Jill O'Bryan
Artist Jill O'Bryan shares the evolution of her work inspired by breath in this conversation with Curator of Photography Katherine Ware, sponsored by the New Mexico Museum of Art's support group Friends of Contemporary Art + Photography (FOCA+P). Six of O 'Bryan's recent drawings, made during the coronavirus pandemic and racial equity movement, are featured in the museum's exhibition "Breath Taking" (March 13 through Sept. 5, 2021). O'Bryan talks about being in New York City in the spring of 2020, when the COVID-19 virus was rampant, the solace she found in breath and then expressed in her art. Later in the year she returned to New Mexico, where she created two pieces to honor George Floyd Jr., both drawn during an interval corresponding to the length of time he was unable to breathe with a police officer's knee on his neck.
Breath Taking: Tony Mobley in Conversation with Katherine Ware
People to People: The Making of Breath Taking with Kate Ware and Rebecca Aubin
In this lively informal conversation, Rebecca Aubin and Katherine Ware of the New Mexico Museum of Art talk about the art, ideas, and challenges of the museum's exhibition Breath Taking (March 13 through Sept. 5, 2021), originally scheduled to open in May 2020. In March of that year, as the SARS-Cov-19 pandemic spread across the country, the museum and many businesses abruptly closed in accordance with health and safety protocols. That spring, the subject of breath became front-page news with reports of flagrant civil rights violations and the danger of respiratory droplets. A full year later, in March 2021, the museum reopened and was finally able to present Breath Taking, an exhibition of work by eighteen contemporary artists working in a variety of mediums to address the subject of breath. The exhibition offered a contemplative space filled with artwork that offered a visual respite from daily life and gave visitors a place to reflect on recent events and their own relationships with body and breath
Press:
Read the Forbes review of Breath Taking