Upcoming Exhibition
Out West: Gay and Lesbian Artists in the Southwest 1900-1969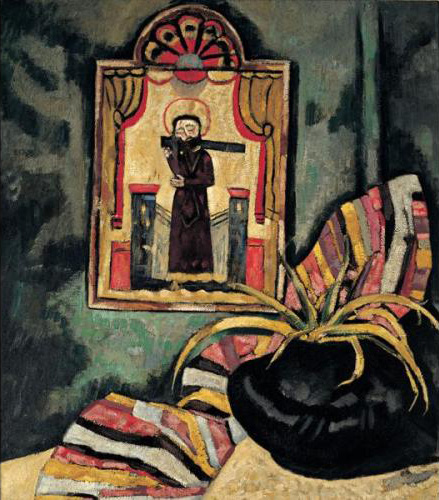 Marsden Hartley, El Santo, 1919, oil on canvas, 36 × 32 in. Collection of the New Mexico Museum of Art. Anonymous gift from a friend of Southwest art, 1919 (523.23P). Photo by Blair Clark.
Out West surveys the work of gay and lesbian artist in the American Southwest from the early twentieth century through the Stonewall Riots of 1969, when the face of queer representation changed dramatically in the United States. While some artists built lives for themselves in states less welcoming to queer people, other areas, including northern New Mexico promised freedom and a sense of community denied to them elsewhere. Queer communities played a significant role in developing the art communities throughout this region, although this influence is rarely acknowledged. Yet even in the most open communities, the impact of these early queer artists has yet to be fully recognized. In his engaging memoir Unbuttoned: Gay Life in the Santa Fe Art Scene, Walter Cooper laments: "So much of our queer history has been swept under the rug, it's almost as if we never existed. People tend to underrate or ignore 'the queer factor,' the enormous impact gay folk have made on New Mexico's unique cultural life."
Out West recognizes the contributions of gay and lesbian artists to the history of modern art in the Southwest. Despite social stigmas of the time certain communities in the Southwest offered a safe space for early queer artists to live unhampered by the stigmas and social restrictions present in other parts of the country. This exhibition will explore the influential careers of LGBTQ artists, including Cady Wells, Marsden Hartley, Russel Cheney, and Agnes Sims in the Southwest and how their legacy remains a vital part of Southwestern cultural history.