Past Exhibition
Patrick Nagatani: Invented Realities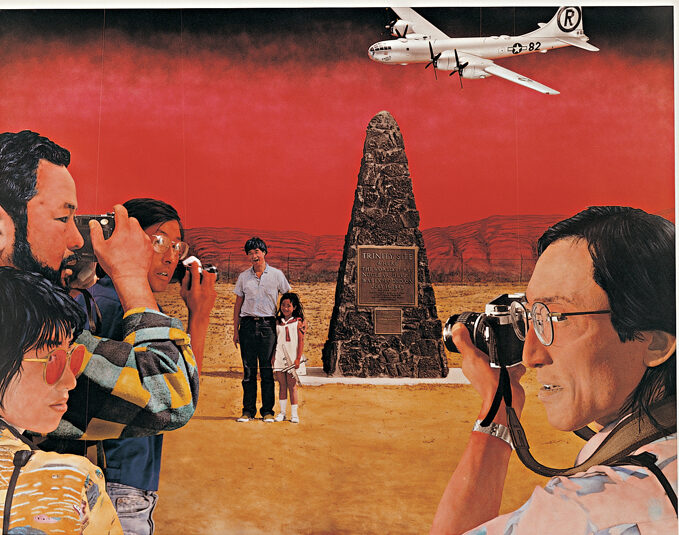 Patrick Nagatani, Trinity Site, Jornada Del Muerto, New Mexico. (from the series Nuclear Enchantment), 1989, silver-dye bleach print, 20 × 24 in. Collection of the New Mexico Museum of Art. Gift of anonymous donor, 1997 (1997.61.13) Photo by Blair Clark © Patrick Nagatani Estate.
Photographer Patrick Nagatani (1945-2017) didn't just take pictures, he made pictures. While most art photographs are the result of careful choices about subject, framing, lighting, and other factors, Nagatani went to even greater lengths to get the picture he wanted. With experience working in Hollywood special-effects and an MFA from UCLA, the artist began creating models and constructing scenes specifically for the camera in the mid-1980s.
Nagatani became a leading figure in the directorial style of photography, which not only acknowledges that photographs are fictional but lets viewers in on the joke. Nagatani and his collaborators actively staged scenes for the camera, directing every aspect of production without hiding the strings and seams that held them together. He is known for using humor and exaggerated narratives to draw attention to social issues, particularly the legacy of the atomic bomb.
This survey across Nagatani's rich career, drawn primarily from the New Mexico Museum of Art's extensive holdings, concentrates on the artist's creative process and use of visual storytelling.
The show ranges from his large-format Polaroid collaborations with painter Andrée Tracey, for which the artists constructed elaborate and sometimes outlandish narrative scenes with frequent cameo appearances by themselves, as well as students, family, and friends. The exhibition offers a rare opportunity to see two painted backdrops and a papier mâche prop made by Tracey, on loan from the Albuquerque Museum, for the photographs Radioactive Reds and Great Yellow Father. Video clips and label text by some of the artist's students, friends, and colleagues bring Nagatani's inventive and theatrical process to life for visitors. Also represented are photographs from series including Chromatherapy, Nuclear Enchantment, Japanese-American Concentration Camps, and Tape-estries, two lithographs, and a set of matchbooks altered by the artist.
Nagatani was a longtime faculty member at the University of New Mexico in Albuquerque and a prominent figure in the photography world who touched many lives. He was passionate about his work, intensely creative, and humorous.
The exhibition is presented in conjunction with summer shows of the artist's work at the Albuquerque Museum and the University of New Mexico Art Museum. Aspects of the show and related programs are in coordination with the New Mexico History Museum exhibition Atomic Histories and the Santa Fe Opera performance of Doctor Atomic.