Past Exhibition
Word Play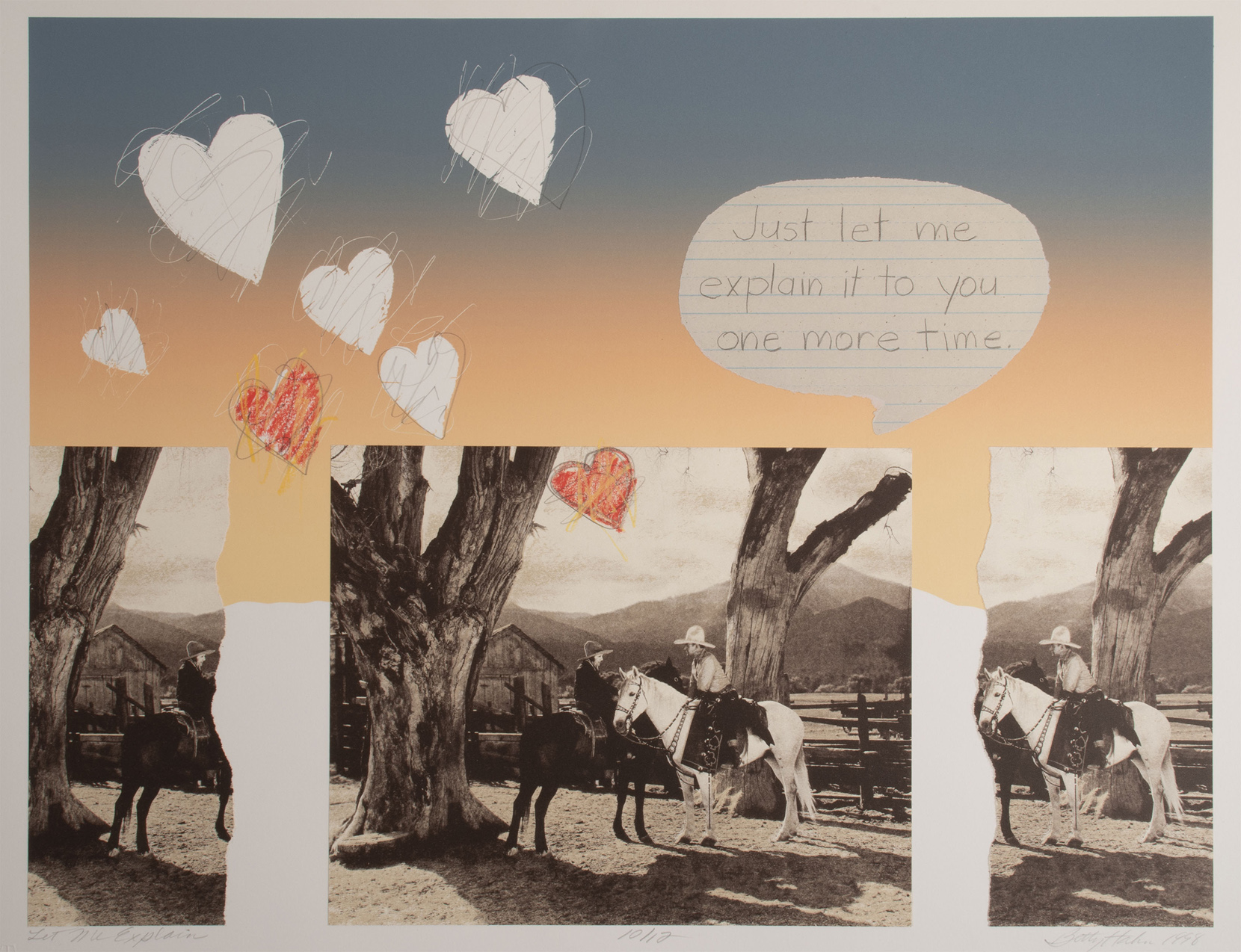 Betty Hahn, Let Me Explain, 1998, Five-color lithograph with photocopy, photo transfer and chine collé, New Mexico Museum of Art. Gift of Betty Hahn, 2010 (2010.24.1) © Betty Hahn. Photo by Cameron Gay.
Words and pictures have a long history of playing well together, sometimes reinforcing and sometimes contradicting each other. This exhibition of more than forty works of art in a variety of mediums features images by artists who incorporate letters, words, and phrases into their visual creations.
Among the delights of the exhibition are photographs inspired by the words in our everyday environment, such as shop signs, graffiti, and advertising, by photographers including Van Deren Coke, Miguel Gandert, and Walker Evans. Comics and cartoons offer another familiar model for joining words with images, as seen in prints by Betty Hahn, Jason Knapp, and Joyce Neimanas. In other cases, words and images work together in service of a social or political message, seen in pieces by Jaune Quick-to-See Smith, David Sloan, and May Stevens. Notes, handwritten letters, and poems also make an appearance, incorporated into compositions by Meridel Rubenstein, Alex Traube, and others. These whimsical, poignant, and sometimes cryptic compositions are accompanied by a variety of word puzzles and games in the gallery that invite visitors to play along.
Visit our Virtual Tours page to explore this exhibition virtually!
Check out the Word Play  virtual workbook for exhibition-related activities you can do at home!